Shandong International Convention and Exhibition Center
Shandong International Convention and Exhibition Center is located in the western core area of Jinan and is less than 3 kilometers away from Jinan West Railway Station, with IKEA and Decathlon projects in the south, and Grand commercial complex and Evergrande commercial super high-rise projects in the west. Adjacent to Shandong Provincial Medical Center, Shandong Provincial Capital Culture and Art Center Grand Theatre and Shandong Provincial Science and Technology Museum, it is the first large exhibition venue in Jinan with a single net exhibition area of more than 150,000 square meters, which echoesand complementsJinan Shungeng International Convention and Exhibition Center and Jinan International Convention and Exhibition Center.
The Center was officially put into use in July 2019, with a total construction area of about 352,000 square meters, a ground area of 226,000 square meters, an underground area of 126,000 square meters, an indoor exhibition area of 150,000 square meters, and an outdoor exhibition area of 50,000 square meters, providing a total of 5,468 international standard booths. It comprises5 exhibition pavilions and 8 exhibition halls, as well as conference centers, entry halls and landing platforms. From south to north, there are two single-storey pavilions, two two-storey pavilions and one three-storey pavilions (the third storey is the conference center). Each storey is over 11 meters high, and the 5pavilions are connected to each other by a 40,000-square-meter entry hall, and separated by different colors of curtain walls representing the four seasons of spring, summer, autumn and winter.
There is a bus parking lot on the ground, which can park 200 buses with an approved load of more than 10,000 passengers. The underground is equipped with underground parking lots, and business, catering supporting service facilities. There are more than 2,400 parking spots. In order to maximize the development and utilization of space and facilitate exhibitors to arrange and remove exhibitions, the center adopts a single-storey steel structure beam with a maximum span of 72 meters. Each exhibition pavilion has 6 unloading areas. The ground bearing of the first floor underground is 5 tons per square meter, and that of the second floor underground is 3 tons per square meter, which meets the needs for holding large-scale truck exhibition and machinery exhibition.
After the renovation and upgrading in October 2020, the area of A3 International Conference Center reached more than 10,000 square meters, making it the largest single international conference center in Asia. The conference area consists of three conference centers with a capacity of 5,000 people, 1,200 people and 600 people respectively, which are equipped with VIP reception rooms, press conference halls and leisure& negotiation areas to meet various functional requirements and undertake international and national conference activities.
Shandong International Convention and Exhibition Center is a comprehensive exhibition industry cluster integrating exhibition, conference and business office and is also a new pivot of the overall industrial promotion and economic transformation and upgrading in the west of Jinan. It mainly hosts international exhibitions, national exhibitions, national itinerant exhibitions, large and medium-sized government-led exhibitions, and mechanical equipment exhibitions; and it also hosts large and medium-sized market operation exhibitions, various conferences and large-scale activities with a scale of more than 30,000 square meters.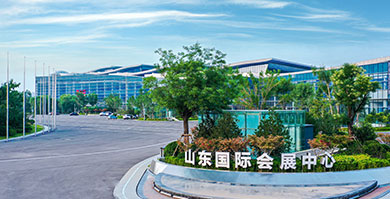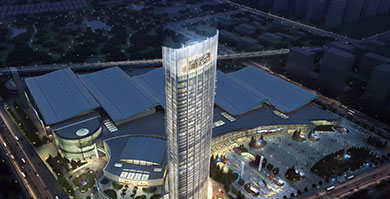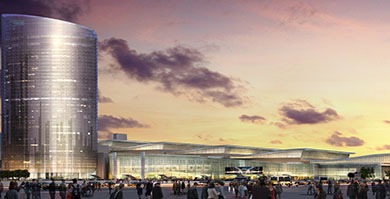 Huaiyin District, Jinan, Shandong Province
No.1, Rizhao Road

(0531)81255929、88885666

sgcecyxb@126.com

09:00-17:00